When connecting the Eagle, keep the following in mind:
The banana jacks are color-coded by channel: Black – Channel 1, Red – Channel 2, Blue – Channel 3, Yellow -Channel 4, and White – Common (Not all channels may apply, depending on your model Eagle.)
The unit is powered from the voltage between Channel 1 (Black) and common (White)
Black and white inputs must be connected even if you are not using all the input voltage channels
Do not exceed 600 volts RMS channel-to-channel or channel-to common
When using a three-phase Eagle to monitor a single-phase system, either unplug the unused leads and connect them in parallel so that all channels are recording the same information, or clip them to the common connection to avoid noise readings.
When all CT channels are not required for hookup, unused channels may be connected as desired for additional monitoring.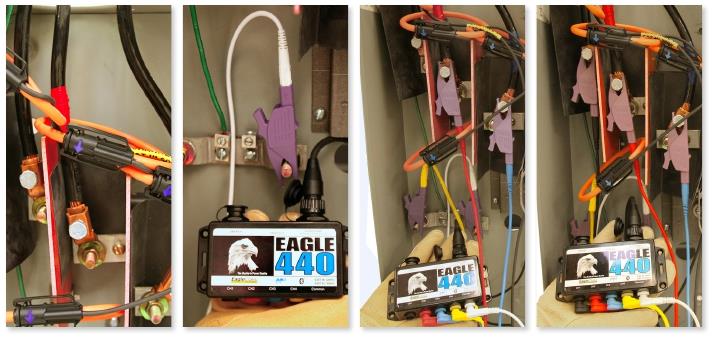 Wrap the CTs around the conductors with the arrows facing towards the load. Then connect the CT cable to the Eagle.
Connect the common (White) voltage lead to the Eagle; and connect the voltage clip to the according to your circuit type.
Connect the voltage leads for channels 4 (Yellow), 3 (Blue), and 2 (Red) to the Eagle; then connect the voltage clips to clip the indicated Channel 2, 3, and 4 conductors.
Connect the channel 1 (Black) voltage lead to the Eagle; then use the dolphin or alligator to attach it to the correct conductor.
Note: It is important to connect the channel 1 voltage lead last, since this will start the two-minute countdown for recording. The LED on the side of the Eagle will blink every other second during the two-minute countdown. Once the two-minute countdown is completed, recording begins and the status LED will blink once every six seconds.